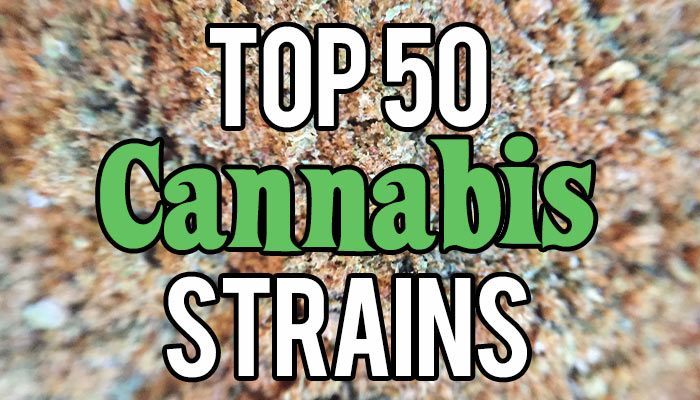 Cannabis strains! One of the advantages of weed being legalized in USA is that there's now an enormous choice of legal weed strains available in USA. Whether you want a soothing indica strain, an uplifting sativa strain or a balanced hybrid strain, you have tons of options. Here are top 50 most popular cannabis strains in 2021 of all time that you can buy online right now.
1. Comatose OG
Comatose OG is an indica-dominant hybrid that'll hit you hard with a sensational and relaxing body high. When you smoke this sour citrus strain, you'll start out feeling happy and euphoric. The physical effects grow on you slowly until you're left in an extremely blissful and stress-free state.
2. God Bud
God Bud is one of the best cannabis strains of all time thanks to its balanced effects. It's a 50/50 hybrid that'll make you feel uplifted, motivated, creative, and physically relaxed all at the same time. It's also a top-notch medical strain for all kinds of mental and physical symptoms.
3. Blue Fin Tuna
Blue Fin Tuna is a rare and interesting hybrid strain that crosses Tuna Kush and Blueberry. Fortunately, the smell is more fruity than fishy. The strain is about 75% indica and is perfect for kicking back in the evening and sending yourself into a euphoric and dreamy state.
4. Death Bubba
Death Bubba is one of the most popular cannabis strains of all time for good reason. It's a hybrid strain that offers deep relaxation for the body while also giving you some stimulating cerebral effects. Everyone should try this at least once.
5. Sour Diesel
Another extraordinarily popular cannabis strains with high THC and CBD levels. Sour Diesel or Sour D is a sativa dominant strain that has a strong diesel smell.
Fast acting effects and a dream-like cerebral high make this a great choice for relieving stress and warding off depression. Thought to be a product of Chemdawg, Northern Lights and Skunk
6. White Widow
An extremely popular hybrid cannabis strains that is known for its dense resin content and thick white crystal coating.
White Widow has been a global favorite for over two decades due to its high energy, euphoric high and fast acting effects.
7. Strawberry Cough
A potent sativa cannabis strains that combined the infamous Strawberry Fields with the Haze strain. Strawberry Cough is as delightful as it sounds, a sweet skunky-berry aroma will transport you to a lush strawberry patch in the middle of summer.
Expect a super-uplifting and euphoric high, perfect for individuals with social anxiety or increased stress levels.
8. Gelato
Gelato offers a deliciously sweet taste and an intense high. It'll instantly make you feel more positive and motivated while also relieving your body of any pain or tension. The high grows into a state of complete bliss, ideal for counteracting stress and anxiety.
9. Pineapple Express
Pineapple Express is a strain with a delicious tropical taste and balanced effects. Users often feel happy, relaxed, euphoric, uplifted, and talkative under the influence of this popular strain.
Expect a fruity bouquet coupled with a pineapple / pine taste. A high CBD to THC ratio and a thick coating of resin makes these buds a perfect choice for seasoned smokers.
10. Blue Cheese
Descendant of the original UK Cheese crossed with Blueberry, Blue Cheese is a sweet & rich indica. If you are already a fan of either Cheese or Blueberry, you have to check out Blue Cheese.
The complex savory aroma and taste coupled with heavy indica effects make Blue Cheese a top contender for regular smokers looking to kick back and relax.
11. Gorilla Glue #4
Gorilla Glue #4 is one of the best weed strains of all time by far. The world-popular strain is technically a hybrid, but it's mainly known for its strong indica punch which will leave you feeling glued to the couch in a carefree and euphoric state.
12. Nuken
Nuken is another popular indica strain that makes users feel happy and giggly. It's great for social situations or just for relaxing in the evening.
13. Strawberry Banana
Strawberry Banana is one of the best-tasting marijuana strains available. It also delivers great hybrid effects- it'll perk up your mind then relax your body, sending you on a sensational rollercoaster high.
14. Skywalker OG
Skywalker OG is a strong indica-dominant hybrid that's perfect for dealing with chronic pain, stress, migraines, appetite, and depression. It's best used in the evening or at night when you just want to relax.
15. Sunset Sherbert
Sunset Sherbert is an offshoot of Girl Scout Cookies, so you can expect a mouthwatering taste when you smoke or vape it. It'll give you some amazing relaxing effects while also stimulating your mind and heightening your senses.
16. Purple Kush
Purple Kush is one of the best pure indica strains ever made. If you want a full body high that'll ease you of any kind of pain, tension, stress or depression, then pick some up and enjoy the tranquilizing, zen-like experience.
17. Purple Dragon
Purple Dragon gives you a nice, clear-headed high that you can enjoy at any time of the day. It's a hybrid that can help with everything from fatigue to pain while also putting you in an amazing mood.
18. Medi Kush
Medi Kush is primed for medical use. With high levels of both THC and CBD, it's ideal for counteracting all kinds of mental and physical issues from chronic pain to anxiety. It's one of the best medical strains while also giving you a smooth, calming high.
19. Black Diamond
Black Diamond will quickly put you in a state of relaxing euphoria, completely putting you at ease while taking away all kinds of pain and stress. It's a hugely popular strain that everyone needs to try.
20. Blue Dream
We have arrived at the single most popular strain of marijuana at the moment; Blue Dream. By combining Blueberry indica with the sativa Haze you end up with a sativa dominant hybrid that is an absolute delight to smoke.
The THC and CBD levels are on the higher side, but Blue Dream remains a great strain for beginners and seasoned tokers alike. The full-body relaxation effects from the Blueberry indica pair with the invigorating cerebral high of the Haze sativa for a well-rounded high.
Much like its Blueberry parent, Blue Dream emits a tantalizing blueberry aroma and tastes like sweet berries. It is popular among day-time smokers because it doesn't have the same sedative effects as some indica heavy strains, but you will probably find yourself toking on it every chance you get. It is that delicious!
21. Purple Punch
Purple Punch is an especially relaxing strain that's perfect for those who want a good night's sleep. It'll counteract pain and stress while bringing you into an incredibly calm and sedated state.
22. Wedding Cake
Wedding Cake crosses Girl Scout Cookies and Cherry Pie, resulting in an amazing, sweet-tasting strain. It'll also make you feel euphoric and uplifted while counteracting stress, depression, and pain.
23. Key Lime Pie
Key Lime Pie is another delicious GSC phenotype. It'll make you happy and heighten your senses while also giving you soothing, tingly physical effects.
24. Mango Kush
Mango Kush is a strain that's known worldwide for its sensational high. Whether you want to feel happy, giggly, and social or simply want to kick back and enjoy TV more, it's a great strain to use.
25. Zkittlez
Zkittlez is a hybrid strain that's perfect for social situations. You can expect to feel happy, giggly, and creative. The high will get more relaxing as time goes on, easing you into a calm and soothed state.
26. Blueberry Haze
Blueberry Haze is a 50/50 hybrid strain that's perfect for all kinds of users. Low amounts will put you in a more mentally stimulated state whereas higher doses will give you a smooth body buzz that's great for pain.
27. Orange Crush
Orange Crush is a great choice if you're looking for a stimulating sativa. It'll boost your mood, make you talkative, and give you an incredible burst of mental focus and creativity.
28. King's Kush
King's Kush is an indica-dominant hybrid that creeps up on you with its tranquilizing effects. Smoke this in the evening to mellow out and rest.
29. Pink Bubba
Pink Bubba is a potent indica strain. Those who need help sleeping will greatly benefit from its sedating effects and its ability to free you of all pain and stress. It'll also give you the munchies, so have some snacks on hand.
30. Sweet Skunk
Sweet Skunk is a balanced hybrid that's perfect for heightening your senses and enjoying any activity more. Whether you want to socialize, listen to music or play video games, it's incredibly enjoyable under the influence of Sweet Skunk.
31. Diamond OG
Diamond OG is a great evening strain that will ease you into deep physical and mental relaxation. It helps counteract pain, stress, insomnia, and depression, as well as giving you the munchies.
32. Night Shade
Night Shade is a potent strain that'll give you a dreamy head high and sedating body high. Naturally, this strain is perfect for use at night when you want to get ready for bed.
33. Lemonder
Lemonder puts you in an amazing state of mind. Users with anxiety, depression or chronic stress will love this strain for its powerful uplifting effects. It also helps with physical relaxation and has a sweet taste to top things off.
34. Tahoe OG
Tahoe OG is known as a prime medical strain that can treat anxiety, chronic pain, insomnia, ADHD, PTSD, depression, migraines, and PMS. It also gives you a happy, laidback high that anyone can enjoy.
35. Sour Tsunami
Sour Tsunami has relatively low levels of THC and high CBD levels, making it perfect for treating all kinds of symptoms. Meanwhile, the high is very balanced, giving you mental stimulation and physical relaxation.
36. Gold Kush
Gold Kush will put you in a hazy mental state while giving you a soothing all-over body buzz. Whether you need to relieve pain or simply need something to help you relax, it's a top choice.
37. Juicy Fruit
Juicy Fruit is a sweet and fruity strain with fantastic hybrid effects. It leans more towards sativa effects, delivering a sharp burst of mental creativity and focus. It'll also instantly lift your mood, making you happy and stress-free. It's perfect for daytime use.
38. CBD Critical
CBD Critical is bred specifically for medical users. With just 5% of THC and 8% CBD, it gives you tons of medical perks with limited psychoactive effects. The high is calm and relaxing without being overwhelming.
39. Lemon Kush
Lemon Kush is a sativa-dominant strain with a sweet, citrus taste which makes it a pleasure to smoke. It'll give you an uplifting and creative buzz, heightening your senses and taking away all kinds of physical distress.
40. Tuna Kush
Tuna Kush is a relaxing and sedating strain. It delivers extremely potent indica effects thanks to its high THC levels of 23-25%. Beginner users should avoid this, but it's a favorite for users in search of a strong indica high.
41. Cherry Pie
Cherry Pie is a cross between Granddaddy Purple and Durban Poison. It has a sensational taste with hints of cherries and vanilla. The high is also extremely enjoyable, making you feel happy, euphoric, and giggly.
42. Blackberry Kush
Blackberry Kush is a strain that hits you hard and fast. Even just a little bit can instantly put you in a super relaxed and sedated state. It also has a rich, fruity taste which makes it extra enjoyable to smoke or vape.
43. Night Nurse
Night Nurse is a heavily relaxing strain that can help you sleep, as you might guess from the name. It also has an amazing, coffee-like aroma and taste. It can also help instantly counteract all kinds of pain and tension.
44. Irish Cream
Irish Cream is an indica-dominant cannabis strains that'll give you a high as smooth as its namesake. The effects are relaxing and long-lasting, putting you in a calm and peaceful state for hours on end. As such, it's ideal for dealing with pain, stress, and anxiety.
45. Death Star
Death Star is a popular indica cannabis strains, perfect for using late in the day when you just want to relax. With high levels of THC and CBD, it's also useful for counteracting a range of physical and mental health problems.
46. Cotton Candy
Cotton Candy has a smell and taste that fits its name. As for the effects, it's a grower that starts off with a burst of cerebral stimulation and eventually makes you more and more relaxed until you're ready to sleep.
47. Zombie Kush
Zombie Kush is the result of crossing OG Kush and Blackberry. It produces a hard-hitting indica high, making you more introspective, calm, and ready to sleep.
48. Death Rockstar
Death Rockstar is a well-balanced hybrid that's made by crossing Rock Bud with Sensi Star. It'll instantly give you a burst of energy and focus, making you happier, more creative, and more focused. The indica effects creep in slowly, offering deep relaxation and relief for stress.
49. Girl Scout Cookies
With some genetic variations reaching upwards of 28% THC, Girl Scout Cookies quickly became a top shelf cannabis strain. GSC offer a well balanced, potent high with unparalleled cerebral effects plus deep full-body relaxation.
Girl Scout Cookies were a result of crossing Durban Poison and OG Kush, a fantastic marriage that has swept the nation.
50. NYC Diesel
NYC Diesel came to life thanks to a super spicy threesome between: Sour Diesel, Afghani and Hawaiian.
A 60% sativa-dominant cannabis strain, expect strong cerebral effects with full-body relaxation. Users report a paranoia-free high that is great for social occasions.
Best Sellers
Cannabis Genesis420 has an endless amount of cannabis strains to help ease all medical conditions, such as anxiety, stress, ADD/ADHD, depression, loss of appetite muscular dystrophy, hypertension, insomnia, migraines the list goes on. Even better, our marijuana dispensary offers the lowest prices online, guaranteed