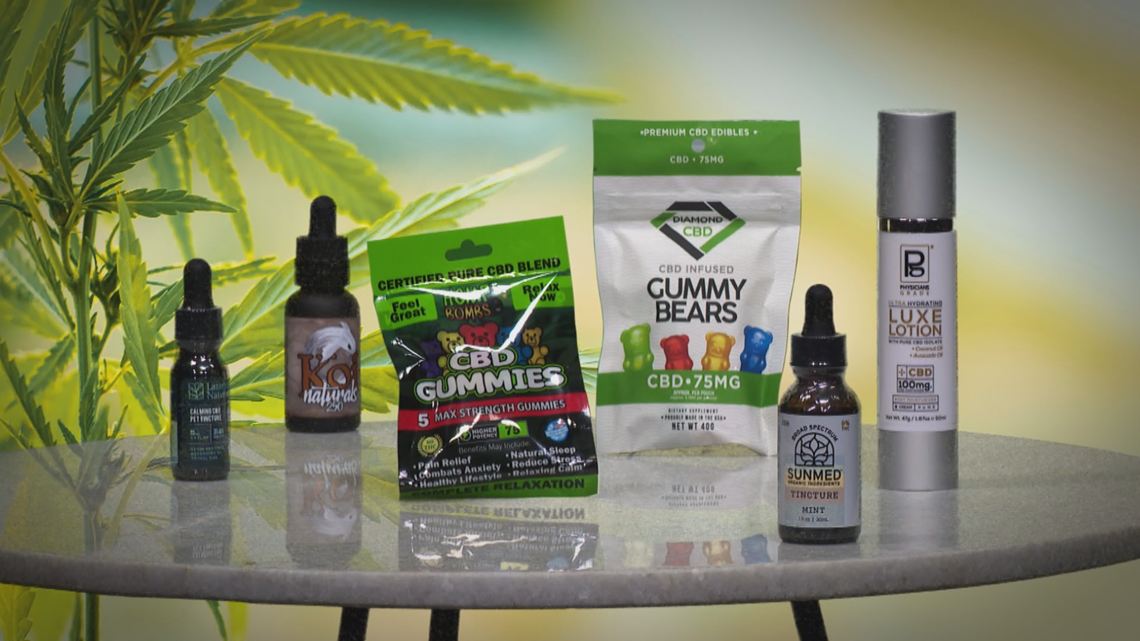 While marijuana has plenty of medical applications, many users are starting to use CBD as an alternative. CBD is short for cannabidiol. A non-psychoactive substance in cannabis. Research suggests can give you many of the same benefits as marijuana without getting you high. There are now various legal CBD-infuse products on the market which make it easy for anyone to consume.
A study on CBD users show that many people use CBD. As a natural remedy for issues such as stress, depression, lack of sleep, seizures, nausea, headaches, migraines, and more. However, two of the most common uses are to help with pain and anxiety. Studies suggest that CBD can act as a natural analgesic and anxiety remedy. Making it useful for a plethora of related conditions.
When it comes to using CBD for anxiety and pain, users have tons of options. From the ease and convenience of CBD Tinctures to the enjoyability of CBD Gummies, there's a CBD product suitable for everyone. Each of these can be effective and the choice generally comes down to your personal preference. Here's a guide on using CBD Tinctures, Gummies, Bath Bombs, and more for anxiety and pain.
What Exactly is CBD?
There's a lot of confusion today when it comes to CBD, especially since it's a cannabis-derived product that doesn't get you high. Cannabis and hemp plants contain a range of natural chemical compounds known as cannabinoids. THC is the most commonly known cannabinoid as its the one which gives you the psychoactive effects associated with marijuana.
However, these plants also contain a range of other cannabinoids that can interact with the body without getting you high. Some of these include CBG, CBN, and CBC, but the most popular and sought-after by far is CBD. CBD is completely non-psychoactive and has no harmful side effects, hence why it's now seen as a useful alternative to medical cannabis for users who don't want to get high.
CBD or cannabidiol is found in many strains of marijuana, but it's commonly extracted for use in various products such as Tinctures, Edibles, and Topicals. These products make it simple for anyone to ingest CBD and reap the benefits. When you consume CBD, it binds to cannabinoid receptors in the body and activates the endocannabinoid system- a biological system with links to pain sensation, memory, mood, appetite, and various other functions.
While the research on CBD is still limited and there's much debate on how much it can help, surveys show that many users use it successfully as a natural supplement to help with various symptoms. It's commonly used by people for issues such as chronic pain, anxiety, insomnia, epileptic seizures, and a lot more.
Can CBD Products Help With Anxiety?
One of the most common uses of CBD is to help with anxiety. While more research on the effects of CBD is still required, early findings show a lot of promise for users suffering from various kinds of anxiety disorders.
Anxiety is one of the most common problems inflicting adults today, with many suffering from generalized anxiety disorder or social anxiety disorder. There are also some severe forms of anxiety such as PTSD and panic disorder. A research review on using CBD for anxiety states that the research so far has shown much promise that CBD can help with all forms of anxiety.
A study on using CBD for anxiety and sleep found that subjects were able to significantly reduce their anxiety and improve their sleep by taking CBD daily. A dose of 25mg of CBD per day helped was found to be effective for users suffering from anxiety and sleep problems.
Another study on using CBD for social anxiety found that a single dose of 600mg helped swiftly reduce social anxiety in users about to do a public speaking test. These findings show that both low daily doses and high daily doses may help users reduce their symptoms.
A study on using cannabis for stress, depression, and anxiety also found that high-CBD strains of cannabis were helpful when it came to relieving mood disorders. All of the evidence suggests that CBD can potentially help users reduce anxiety symptoms, as well as decreasing daily stress and improving their sleep.
Can CBD Products Help With Pain?
Another one of the most popular uses of CBD is to help treat pain. Research suggests that CBD can act as a natural analgesic as well as providing anti-inflammatory effects. It's commonly used to treat conditions associated with chronic or severe pain, as well as general aches and strains.
A research review on the use of cannabinoids for difficult to manage pain shows that CBD may come in handy for various painful conditions. Many patients use CBD for issues such as Arthritis, injury pain, cancer pain, endometriosis, fibromyalgia, migraines, and other painful issues.
While the research on using CBD for pain is still limited, many users find it therapeutic for relieving pain and inflammation. For example, a recent survey found that over half of Arthritis patients reported using CBD, with many using it daily.
Many casual CBD users also find it helpful for relieving issues such as headaches, muscle strains, wounds, and other kinds of physical distress. Studies suggest that even a small dose of around 15-25mg of CBD can help with pain, although you can experiment and increase your dosage as needed.
Using CBD Tinctures
One of the best ways to use CBD for anxiety and pain is with CBD Tinctures. These are liquid CBD products that come in a bottle with a dropper. It's an easy and discreet method where all you have to do is measure out your dosage with the dropper and apply it under your tongue for fast-acting absorption.
Sublingual absorption is the most common way to use CBD Tincture- you just have to hold the oil under your tongue for around a minute or two to absorb the cannabinoids. However, there are a few other ways to use CBD Tincture.
Oral consumption also works, although it can take a while to digest. Some users add CBD Tincture to their food for a more enjoyable way to consume CBD. You can also mix it into drinks such as smoothies, coffee, and cocktails for a tasty CBD-infused beverage.
It's easy to control your dosage with CBD Tinctures thanks to the dropper and you can take as much or as little as you like. You can also take a bottle of CBD Tincture anywhere to get a quick dose of CBD whenever you need it. As such, it's one of the most convenient and straightforward ways to consume cannabidiol.
CBD Gummies
Another one of the best options for consuming CBD is CBD Edibles. These are CBD-infused food products that come in many forms, such as Chocolate Bars and Baked Goods. However, the most popular kind of CBD Edibles is CBD Gummies.
CBD Gummies are tasty candies infused with CBD. These often come in the form of popular childhood snacks or tasty fruit gummies. The great thing about CBD Gummies is how easy and fun they are to use. All you have to do is eat up, enjoy, and your body will consume the cannabidiol.
Since your body must first digest the CBD into your body for it to take effect, these aren't as fast-acting as CBD Tinctures. However, they're still just as effective and many users prefer them for the enjoyability factor. There are many different types and flavors of CBD Gummies to enjoy, such as CBD Jelly Bombs. You can also check out other kinds of CBD Edibles such as CBD Cara-Melts.
These products are also useful as they make it particularly easy to manage your dosage of CBD. Each candy contains the same dose of CBD, so all you have to do is measure out how many you need and eat them. Not only will you get a tasty snack each day, but they'll also give you a healthy daily dose of CBD.
CBD Topicals
CBD Topicals are CBD-infused skin products that you apply directly to your body. These come in many forms, such as Creams, Balms, and Lotions, but they all work in more or less the same way.
The interesting thing about CBD Topicals is that they don't reach the bloodstream. However, they do bind to cannabinoid receptors under the skin and many users find them helpful for certain issues.
CBD Topicals are particularly useful for users looking to relieve pain and inflammation. You can apply them directly to the area of the body affected by pain for fast absorption. They're often compared to products such as icy hot in this regard.
There's also research to suggest that CBD has dermatological benefits and can potentially help reduce acne, dermatitis, skin inflammation, and other skin problems. Many CBD Topicals contain other helpful ingredients such as essential oils to benefit your overall skin health.
CBD Bath Bombs
CBD Bath Bombs are one of the most fun and interesting kinds of CBD products. They're a type of CBD Topical, but while most topicals are applied to a certain area of the body, CBD Bath Bombs make it easy to absorb CBD all over your body.
These work just like regular bath bombs. They come in many amazing scents and all you have to do is drop one into a hot bath, wait for it to dissolve, and enjoy your bath. The only difference is that they're packed with cannabidiol which you'll soak up while laying in the tub.
Many users looking for a natural remedy for pain and inflammation will enjoy these. Sitting in a bath while absorbing CBD can help take away your pain as well as helping you relieve stress. CBD Topicals aren't as useful for anxiety as they don't reach the bloodstream or the brain. However, they can still be very relaxing and also act as a form of aromatherapy. You can also use THC Bath Bombs for similar effects.
CBD Vape Products
Vaping is a popular alternative to smoking which involves subjecting products to high heat to create thick, inhalable vapor. You can use a Vape Pen or Vaporizer, and while many are designed for use with weed or cannabis concentrates, many can also be used with CBD Vape Oils and Vape Cartridges.
You can find various flavors of CBD Vape Cartridges and Oils. When you use these with a Vaporizer, you'll get some amazing, flavorful vapor packed with CBD. All you have to do is take some draws of your vape and you'll absorb the cannabidiol into your system fast. Since they're so fast and effective, CBD Vape Products are great for tackling anxiety and pain.
Of course, you'll need a compatible vape pen first. You might want to buy a kit such as the Key Concentrates Vape Pen Kit which gives you a handy vape pen, charger, and a cartridge of your choice. While many of the cartridges contain THC, you can also choose CBD cartridges in a range of flavors.
CBD Patches
CBD Patches are one of the more interesting ways to use CBD. While technically a topical product that you apply to your skin, they're very different from other topicals as they're absorbed into your bloodstream.
You apply a CBD Patch to an area of your skin surrounded by veins, such as your wrist. The cannabidiol will be absorbed into your skin and your veins and carried throughout the rest of your body. That means you'll get the full range of CBD benefits.
CBD Patches are useful as, instead of giving you a fast dose of CBD, they give you a long, slow dose. It's perfect for users who want sustained CBD effects for a few hours. You can buy CBD Patches online.
Conclusion
If you want to use CBD for anxiety and pain, there are many viable choices. You might prefer the convenience of CBD Tinctures. The enjoyability of CBD Vape Cartridges or the taste of CBD Gummies. All of these are safe to use and all of them can be effective. You may even want to try out a few. You can buy all of the CBD products you need from Cannabisgenesis420.com.