Aspire Breeze Vape Kit
Introducing the all-new Aspire Breeze. The Breeze is our latest all-in-one device that employs a compact and ergonomic design, no matter how you hold or grip it, it feels good in the hand. The breeze has a built-in refillable tank that holds 2ml of e-juice and is compliant with TPD regulations. It also utilizes our U-tech coil which ensures you a flavorful vape. Not only that, its auto-fire feature adds even more convenience to your daily vaping, no need to press the fire button, just inhale from the drip tip and it will work for you. The fire button also helps further navigate the Breeze.
The Aspire Breeze is a small, lightweight, easy to use e-liquid vaping device with a compact ergonomic All-in-One (AIO) style design. The Breeze AIO device has a built-in 650mah battery and 2.0ml liquid reservoir tank that utilizes Aspire's popular U-tech atomizer coil technology to provide you with a convenient and flavorful vaping experience.
Aspire Breeze vape device is recommended to be use with Ease Vape liquid.
Just inhale to automatically activate and vape away or manually operate using the Breeze button to control your vapor intake and further navigate your vape.
Aspire Breeze Features:
All-in-One Design
Easy to Use and Refill
Auto Inhale or Button Activated
Max Fill Liquid Indicator
Built-in Battery 650mAh
2.0ml Liquid Capacity
Battery Life LED Indicator
Micro USB Charging Port
Side Port Airflow Hole
Automatic Safety Cutoff
Short Circuit Protection
Low Voltage Protection
Overcharge Battery Protection
Product Size: 3-7/16″ x 1-1/4″ x 7/16″
What You Get: 
1x Aspire Breeze All-in-One Vape (w/ battery and tank)
2x Aspire Breeze Atomizer Coils – (1*1.2ohm/1*0.6ohm)
1x Mouthpiece Cap Cover
1x Extra Set of (6) O-Rings
1x USB Charging Cable
1x User Manual
1x Safety Warning Info Card
1x Retail Factory Package
*Let new coils soak e-liquid from tank before using for better taste, longer coil life and help prevent burnt coils. Use at your own risk. No warranty on atomizer coils.
Aspire Breeze Dimensions
Aspire Breeze Automatic on/off

In addition to its simplicity and good looking in design, the Breeze is also super easy to use, just inhale from the drip tip without pressing the fire button, the breeze will work for you. Make sure the Breeze has been filled with e-juice before taking a inhale.
Note: 1. Never blow directly into the mouth piece as this could potentially burn the coil and may cause a fire hazard.
2. Replace the drip tip protective cap when the Breeze is not in use.
Aspire Breeze filling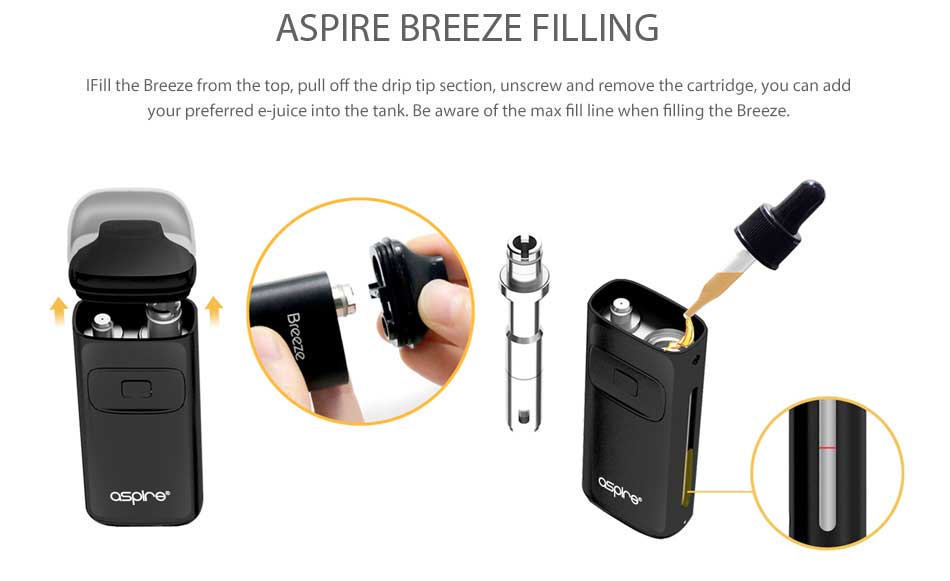 Fill the Breeze from the top, pull off the drip tip section, unscrew and remove the chimney unit, you can add your preferred e-juice into the tank. Be aware of the max fill line when filling the Breeze.
Aspire Breeze Atomizer

* The Breeze employs U-tech coils, a 0.6ohm for advanced flavor and vapor production, the 1.2 ohm coil specifically designed to work perfectly with high nicotine ejuice.
Aspire Breeze Exploded View